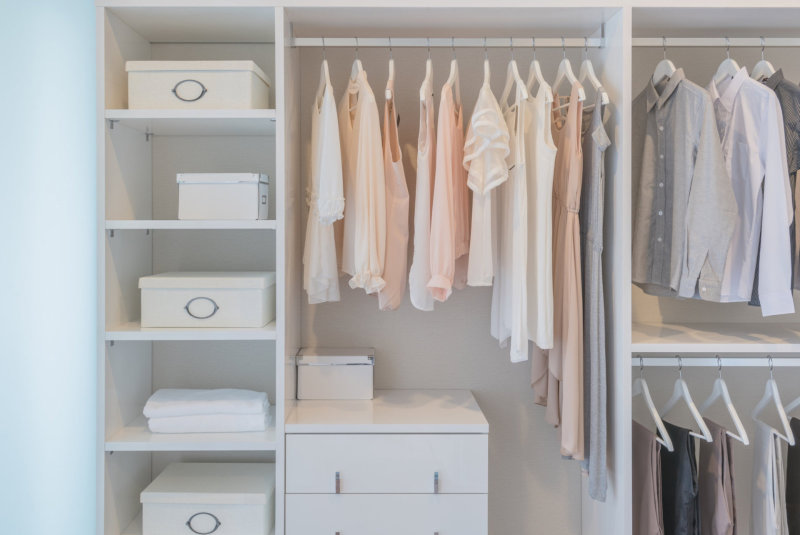 There are some key questions anyone should ask when designing their closet. We want to make sure you know what they are, in case you're going to design your closet anytime soon!
Do you want a place to sit?
A chair is convenient for putting on footwear. Generally speaking, this will work decently well because you can't use the lower space in the closet for hanging anyways.
Do you want to be able to look at yourself in the mirror?
If you do want a mirror, make sure you give yourself a three-foot clearance to get a good view. Also, ensure it's someplace you cannot block it with anything. The back of the door, for example, is an excellent spot for a full body mirror!
Do you plan on ironing anything in your closet?
Some prefer to iron in the laundry room or living room, but why not the closet? As a matter of fact, a flip-down ironing board can save a ton of room and very convenient to use.
Do you want to install a TV?
Some people spend a lot of time getting ready. No shame in that, but why not add some entertainment to the process? If you decide to install a TV, plan your storage around it. Most importantly, ensure it's at eye level – otherwise, it turns into a radio.
Do you want a window?
Windows can add some fantastic natural lighting to a room. However, it's important to keep in mind that if you can see out, others can see in. If you choose a window for your closet, make sure it's at least 3 feet 6 inches or higher at the windowsill.
We at KC Custom Closets wish you the best in your closet designing venture!

KC Custom Closets
Serving the Kansas City Metro Area
Call or email to schedule your free, in-home design consultation.
Missouri – 816-501-8716
Kansas – 913-333-2537
EMAIL US
www.kccustomclosets.com